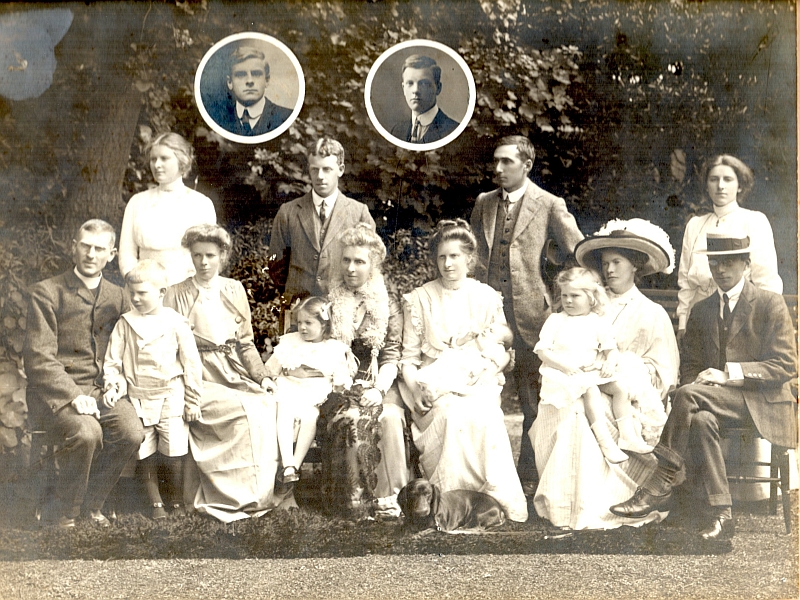 Family group at Gensing Manor, 13th August 1913
Move mouse pointer over any member of the group for quick identification. A popup will appear.
A mouse-click will open a page of brief biographical details.
(inset) Llewelyn Morgan
(standing) Olwen Arthur Reggie Enid
(seated) Hugh Margery Harriet Anna Gladys Gwendolen Vincent
(children) Vyvyan Joan Brenda Iris

Olwen Sanger-Davies was born on November 19th 1891 at St. Mary Bredin Vicarage, Canterbury, where her father was vicar. When she was 4 years old the family went to live in the Tyrol & later the Riviera, where her father became chaplain in Cortina. In 1900 Rev. Sanger Davies died aged 51 in Cannes leaving a widow and eight children, three of whom were at school in England. Mrs. Sanger Davies returned with her family to England and resided at Gensing Manor, St. Leonards on sea. Olwen grew up in St. Leonards with her mother, brothers and sisters. She attended Hastings and St. Leonards Ladies College where she won several school prizes, notably for art. She obtained a gold award at the Exhibition of the Royal Drawing Society held at the Orangery, Kensington Palace in 1908. She was Superintendent of the Sunday School at St. John's Church, Pevensey Road St.Leonards for almost 17 years until 1932. She became a Deacon in the Church of England and also undertook missionary work for many years. She painted in oils and watercolours (see example below). She married in later life Rev. Walker, vicar of Halton Church, Priory Road, Hastings; and was widowed not long afterwards. She is remembered as a dignified and much respected great-aunt.
---------
Bibliography
Works published in her lifetime include:
Handwork for Teachers and Children in Church, Day and Sunday Schools
(1932)
Boys and Girls Teach Themselves: Activities for Juniors and Others in Church, Day and Sunday Schools
(1935)
---------
---------
Olwen remained childless. The editors of this online edition of her
Scrapbook
are the children of Iris, who appears as a small child in the photo above.